Introduction
            My name is Kishore Bhosale, aspired to build a career in the import-export industry. I've did my graduation in BCA and after that, I successfully finished a 5-day Import Export Course offered at Federation. I gained all fundamental knowledge necessary to expand my understanding of import export Business and I realised the potential in this industry. Then I selected my product and tried to close the export deal, but I was facing challenges in finding reliable customers in the global market. I was having everything, product, basic knowledge, investment, some good buyer enquires but I was getting stuck at the last stage of finalising the deal. I then realised that I am having some concerns about market and buyer and hence I need more exposure to the market.
To get real exposure to international trade, I decided to participate in Federation's 5 Days Dubai Business. The Federation team collected my basic information, products and interests. They planned to visit markets and buyers related to my product. It was an eye-opener experience for me as my views got completed changed and I got clarity about how actual Import Export business works. During the five days of the Dubai tour, we visited many marketplaces and learned about them all, including the Cattle Feed Market, Fruits & Vegetable Market, Commodity Market, Textile Market and also met federation's partner importers, banker, CHA who gave us lot of clarity on how to start export to Dubai?
Here I am trying to write about my experience of International Business Tour:
Dubai Visit Day 1 (Cattle Feed Market)
On the first day we decided to visit the Cattle Feed Market as there were quite a few exporters in group interested in this sector. In the beginning our mentor Mr. Abhijit Shinde Sir briefed us about market and explained why this industry is important for India. Every country has cattle, pet animals, birds etc hence there is always a demand for Cattle feed products like maize, millets, wheat, wheat bran, rice, rice husk, rejected pulses etc…
We started our business tour by meeting Federation's partner importer. He was a trading in multiple products including maize, green millet, rice, pulses and spices also. He was having a big warehouse and has established a distribution system in UAE. He was having trade experience in Import Export Business of more than 7 years. He explained how he works with new exporters, payment terms, sourcing etc. He also gave his current demand which we can do through Federation support. We also met another importer who was working in similar products but was having different business model. He was more into re-export from Dubai to other countries. Here we got to know that why UAE's trader numbers are so big in spite of being a small nation. Both the importers gave us current requirements and one exporter who matched the specification and price, got purchase order on the spot. It was an amazing experience. I don't think any other organization in India is doing such kind of work.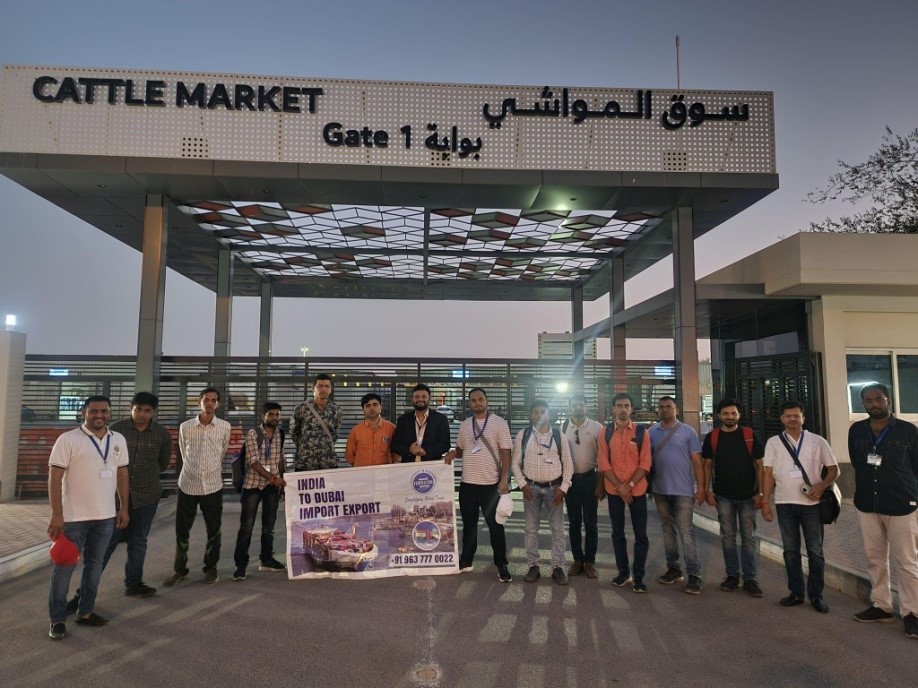 In second half, we had a quick walk in the Cattle Feed Market where we saw many other wholesalers trading in different commodities from different countries. We saw that India has a huge potential to work in this industry just we need to offer best price and work on field. We saw hundreds of containers in the parking are of market. We also understood that we can also bring our container here and can sell on cash and carry which no one of had imagined. Federation gave us such an insight of trade that everyone was just astonished.
We visited couple of wholesalers in the market; they were having big warehouses. They were trading in maize, rice husk, wheat, pulses, DOC, grass, and many other products. Some of participants aspiring exporter in our group were interested in trading maize and green millet. They learned that maize and bajra are a big commodities and it's coming from India and Pakistan as well in huge quantity. They saw different sizes and specifications and compared rates also. They had brought their own product samples which they gave to the traders and offered good prices also. The buyer updated us all about his trading and current demand. He also responded to all questions from the students who were unclear about this market.
On first day itself we saw many Indian products in market. I never knew that all these products are coming from India, I wasn't aware of these things at all. Many products are also produced in my districts and state also. I am sure that many of us can trade in these products which are comparatively easy to start with And Make are career in Import Export Business. Trader mentioned that there is good demand for maize, bajra, soybean DOC, husk, bran, alfa alfa, dry grass etc.
After our Cattle Feed Market visit we went to Live Cattle Market where we saw goats, sheep, and bulls' market. These animals are coming from different countries by ship and by air also. Indian goats are exported to Dubai but in less quantity.
Everyone enjoyed the first day of our business tour and we go excited even more about next program. We called it a day; had our dinner and took rest in our hotel by thanking federation for their efforts.