Introduction
International trade is crucial in influencing economies in a world of interconnectivity. India is a major player in the world of imports thanks to its broad market and expanding economy. This blog dives into the specifics of India's import sector, the operation of the Import Export Business, the major top nations from which India sources its imports, and the most imported goods in India.
An essential part of India's economy is imports. They help numerous sectors and customer needs by making it easier to get products and services that might not be easily accessible locally. India imports a vast variety of things, including machinery to finish goods and consumer items, machinery, crude oil, electronics, and many more.
India's main import partners include the United States, China, the United Arab Emirates, and others. These nations contribute significantly to India's imports, increasing the variety of goods accessible on the Indian market.
Leading importing nations to India
India imported goods worth $613 billion in 2021–2022 and $714 billion in 2022–2023, respectively. The import of services was $147 billion in 2021–2022 and rose to $178 billion in 2022–2023.
The total import for the years 2021–2022 was $ 760 us billion and $ 892 us billion, respectively.
Top Countries India Import from
| | | |
| --- | --- | --- |
| India imports by Country | Value in INR Cr | Year |
| USA | 403,494.87 | 2022- 23 |
| China | 790,931.82 | 2022- 23 |
| UAE | 427,406.56 | 2022- 23 |
| Saudi Arabia | 337,571.87 | 2022- 23 |
| Russia | 374,003.31 | 2022- 23 |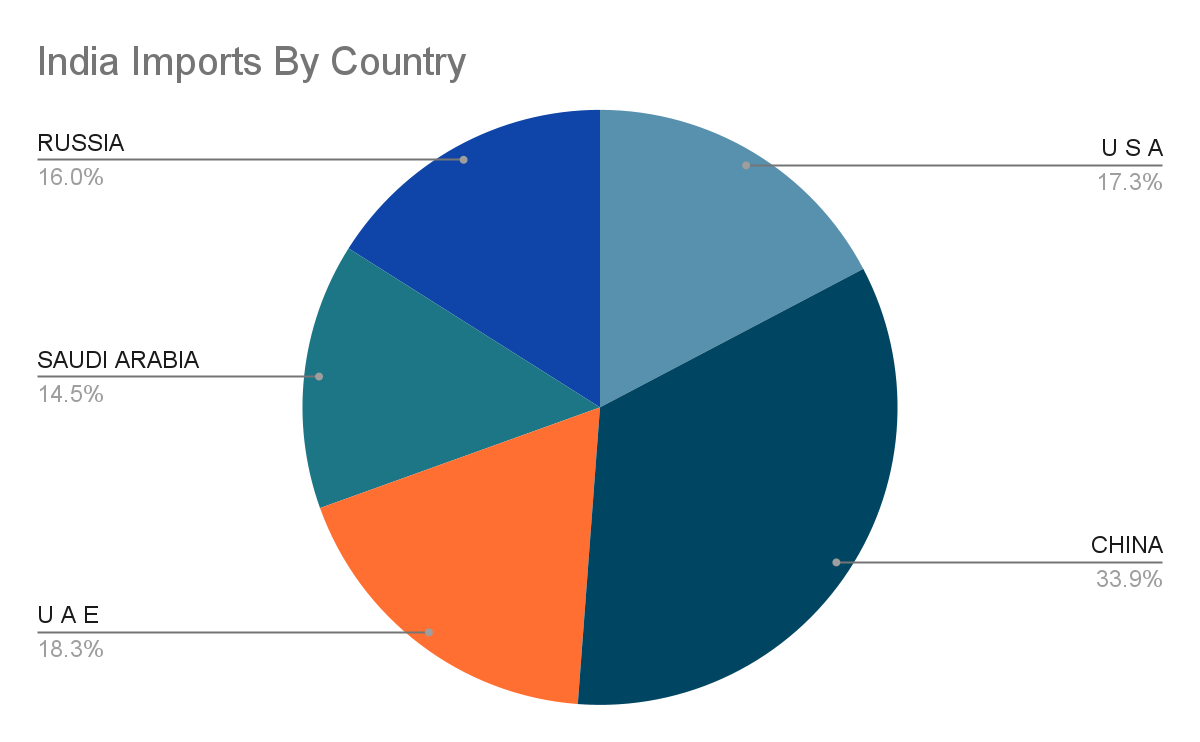 Top products imported by India from other countries
These are some of the most important products that India imports from other countries and in huge amounts.
No
Hs code 2/4 digit
Top Import Products
Top Import Countries
Approx Value (INR Cr)
1
Agri products 07 Vegetables Import 08 Fruits Import
Apples, avocados, Blueberries, Cherries
Myanmar, Australia, Canada
16,119 cr
2
0813 Dry fruits Import
Dry fruits Almonds, Cashew, Saffron, Dates, Pistachio,
Afghanistan, Turkey, USA
3
15 Edible oil Import
Palm Oil, Sunflower Oil, Food Products
Indonesia, Malaysia, Argentina
169,548 cr
4
6305 Cotton products Import
Raw Cotton, Jute,
Nepal, Bangladesh
8,232 cr
5
38 Chemical products Import
Polycarboxylic Acids, Nucleic Acids, their Salts
China, USA, Indonesia
65,762 cr
6
8542 Electronic products Import
Transistors, similar Semiconductor devices, TVS
China, Hong kong,
543,740 cr
7
8481 Engineering products Import
Manufactured parts, pumps & compressors Taps, Cocks, Valves and similar appliances for Pipes, Boiler shells Agri equipments & machinery
China, Germany, USA
437,140 cr
8
71 Gems and Jewellery Import
Stones, Diamonds Natural or cultured Pearls, Precious or Semi precious stones
USA, UAE, Thailand
592,526 cr
9
4202 Leather products Import
Purses, Wallets, Jackets, Footwear, Belts Trunks, Suit-cases, Vanity-cases, Executive-cases, Brief-cases
China, Bangladesh, Singapore
3,873 cr
10
0304 Marine products Import
Frozen shrimps, Fish, Cuttlefish, Squids Fish Fillets and other Fish meat
Vietnam, USA,
1,528 cr
11
3006 Pharmaceutical goods Import
Paracetamol, Metformin, Ranitidine, Amoxicillin
China, Germany, USA
21,022 cr
12
59 Textile products Import
Readymade Jeans, Shirts, Shoes
China, Vietnam, Indonesia
6,900 cr
Benefits of importing
The economic fabric of India is enhanced by imports in a number of ways:
Economic growth: imports boost economic growth by supplying necessary machinery and raw materials to home industries.
Consumer access: imported goods expand consumer options by bringing diversity, quality, and innovation to Indian markets.
Trade relations: imports promote international cooperation by building stronger diplomatic and commercial ties with partner nations.
Industrial upgrade: imports of high-tech products help progress technology across a range of industries, enhancing productivity and competitiveness.
Conclusion
India's imports from other countries form an intricate web that sustains its economy, culture, and growth. This global exchange of goods enriches industries, empowers consumers, and nurtures diplomatic relationships. Import Export Federation helps to build a career in this industry. Many importers as well as exporters have learned the import export business and started it successfully. Import Export Federation offers advanced online import export courses and provide all support to start your business. Federation has helped hundreds of exporters and importers to start their businesses in different industries and products which make Federation a unique platform to launch your global business.