India is all set to achieve its target of achieving $1 Trillion in exports by the end of 2030. Major industry giants are working towards the 'National Goal' as the goal makes sense in several manners
Keeping the foreign reserves on a higher side
Leverage from the competitive or comparative advantage
Benefiting from the lucrative business
And we are all set to assist exporters like you by offering an elaborated list of the most exported products from India.
Most of the exporters who have started recently or are willing to start soon ask me about the most exported goods from India to the international markets. Being in this industry for more than 20 years, I believe having a core understanding of international trades is very crucial.
India has been a star player in the Export game for ages. India being a land of farmers, has always been exporting agro products all over the globe.
A fun fact- before the era of Britishers ruling us, in the era of Chatrapati Shivaji Maharaj, we used to export agro as well as textile products along with manufactured goods to the Global markets!
So what's stopping us now? We have always been on the list of top exporting countries & we can gain that position again. In this blog, I am going to list the most exported products in India.
Let's first see what products enjoyed a great demand & supply last year (2021) in India- As per a report published by Statista and what are the best products to export from India. India exported Engineering Goods that valued at over 5.6 trillion INR. The second most exported product from India in the fiscal year 2021 was Gems and jewelry at 1.9 trillion INR. There are a few categories of products that have their reserved place in the top exported & profitable products.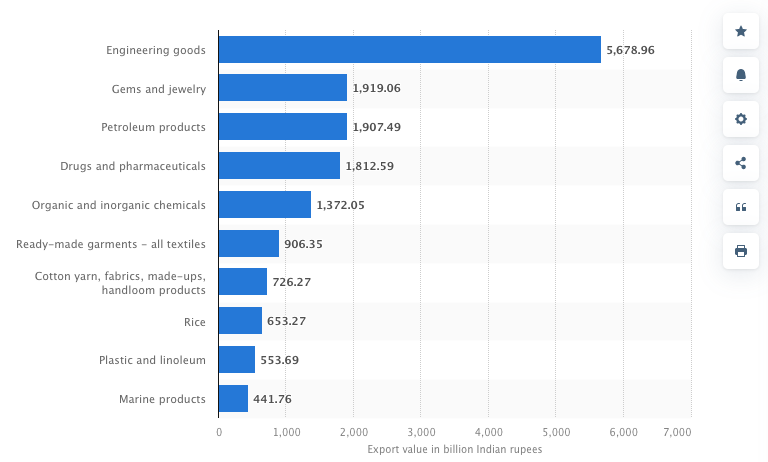 What Are the 5 Most Exported Products From India?
Mechanical Equipment
Refined Petroleum
Jewelry
Textile Products
Pharma & Ayurvedic Products
Let's learn about these commodities in detail & why they have grabbed the place in the most exported products from India.
1. Mechanical Equipment
India largest exporter of Mechanical Equipment. As mentioned above, the commodity captured a whopping 5.6 trillion INR of export last year. The list of Engineering Goods includes iron & steel, non-ferrous metals, industrial machinery, automobiles, and much more.
The Zero duty Export Promotion Capital Goods (EPCG) scheme of the Ministry of Commerce has been a fundamental reason why this commodity is on the top of the list. China, the UK, and UAE are the top countries having the highest demand for India's Engineering Goods.
2. Refined Petroleum
Petroleum has been one of the most important & rewarding commodities exported by India. As per a report, in May 2021, India exported 5.7 million metric tonnes (MMT) of petroleum products.
The petroleum sector of India has high demands from countries like Singapore, UAE, the US, Netherlands, Malaysia, and others. The Government of India has recently reduced the tax on Petrol & Diesel export per liter. The current tax imposed on Petrol per liter is 4 INR & on Diesel per liter is 11 INR.
3. Jewelry
India is still a 'Sone Ki Chidiyan'. Gems & Jewelry is on the 2nd rank on the list of most exported products from India! The export value of Gems & Jewelry last year was $553.78 Million. In 2020, India became the 68th largest exporter of Gold.
UAE, US, Myanmar, Germany, South Africa, etc. countries import Gold from India. Kerala is the top state in India exporting Gold & jewelry to international markets.
4. Textile Products
One of the best products to export from India is Textile products. India has exported ready-made garments & different fabrics for 906.35 Billion US Dollars value. Cotton is the most exported product in India along with Wool, Animal Hair, Horse Hair, Woven Fabric, etc. Top destinations for Indian textile export are the US, UK, Bangladesh, UAE, Germany, etc.
The top 5 textile and clothing manufacturing Indian states are Andhra Pradesh, Telangana, Haryana, Jharkhand, & Gujarat. Whereas Maharashtra & Punjab has always been at the fore along with these 5 states in exporting Textile Products
5. Pharma & Ayurvedic Products
The last one & the most important one in the list of most exported products from India is Pharmaceutical products. Did you know that India exports Pharmaceutical products to more than 200 countries?
Sun Pharma, Dr. Reddy's, etc. are the most exporting companies when it comes to pharma products. India is known as the home of Ayurveda. The origin of Ayurveda happened in India! According to a recent study, herbal products export grew by 27% in 2021. Most of the herbal products are exported from the Gujarat state of India. Panvelley Herbals, Ramniklal Bhavanji Trading Company Private Limited, & Kerala Ayurveda Pharmacy Ltd. are the top 3 exporters of Ayurvedic products from India.
Final thoughts
If you are planning to start exporting & are wondering what products will benefit you the most, you can consider these commodities. All the above are the most exported products from India and these products have seen a hiking graph. The increase in supply is the reflection of an increase in demand! If you wish to learn Import-Export Business & get in touch with an expert Import Export Consultant along with a complete hand-holding, contact Import Export Federation.