In his recent tweet, Union Minister Piyush Goyal shared his happiness about the excellent number of 'banana export from India.'
The tweet states that the banana export from India has jumped 703% from 26 crores to 213 crores in the past 9 years! Though Indian Mangoes are very popular around the world and many mango producers earn whopping amounts in dollars on summer days, Bananas are in the lead!
India is the biggest producer of bananas. As per a report generated by Statista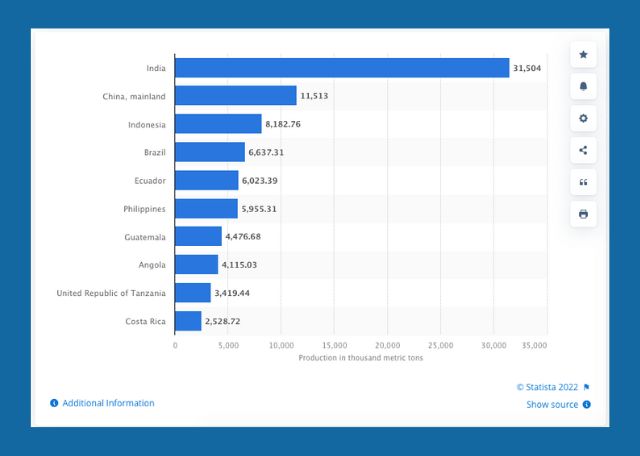 India is in the leading position in countries producing bananas. India is blessed with excellent weather conditions suitable for quality banana production. Quality Banana plants grow well in tropical regions where the average temperature is 27° C and the rainfall ranges between 78 and 98 inches.
And India has got it all! Andhra Pradesh, Maharashtra, & Gujarat are the top Banana producers in India. In a nutshell, the global banana market loves India's quality bananas.
Since India tops the countries producing quality bananas, the most exported fruit in India is the Banana. Most global banana buyers prefer India over its competitors like China, the Philippines, & Indonesia as Indian banana exporters present lower costs and a logistical edge.
What Are The Top Banana Import Countries?
Before we jump to the list of banana import countries, have you thought about why bananas are loved so much in other countries? It's because of the amazing health benefits of bananas. Bananas are rich in nutrients, help in improving blood sugar levels, support digestive health, help in weight loss, and have omega-6 fatty acids keeping a person's stomach full for a longer time. India exports bananas to around 119 countries around the world.
Here Are The Top 10 Banana Import Countries:
UAE
Iraq
Iran
Oman
Saudi Arabia
USA
Kuwait
Afghanistan
Nepal
Turkey
Did you know that the export value of Indian Bananas for the year 2021 was 7.4 Billion INR? Source. If you wish to enter the most promising sector; banana export from India, you need to study the entire market.
It is important to understand the exact specifications of the bananas, what are the export-quality bananas, how to find the best suppliers for export-quality bananas, where & how to find banana buyers in the global market, how to sell bananas globally without visiting banana import countries, etc. research is important.
Quality expected in the Global Banana Market:
The G9 variety of Cavendish bananas is one of the most demanded types of bananas. This variety is cultivated in Maharashtra, Bihar, Gujarat, and the West Bengal states of India. Another type of banana is Dwarf Cavendish Banana which is again preferred globally. Similar to Cavendish, Grand Naine is another type of banana that is extremely common in India. It is mostly cultivated in Tamil Nadu, Karnataka, Gujarat, Andhra Pradesh, etc.
Other types of bananas export from India:
Robusta
Dwarf plantain
Red banana
Alpan (Poovan)
Nendran
Ney poovan
Mantra To Start Banana Export From India:
I am sure that after going through all the details & interesting facts about banana export from India, you must be curious about the exact procedure to start exporting bananas or exporting any perishable commodities. The question is "how to export bananas from India?"
The first step to start your banana export from India is to learn the Impex sector in & out! Be it shipping a small consignment or an entire container full of bananas, learning import-export is a must!
Learning India's foreign trade policies, understanding types of containers & their stuffing options, custom clearance procedures, documentation, terms & conditions, learning banking procedures, acing risk management, performing market analysis, packaging overview, company formation, identifying & connecting with international banana buyers, connecting with international partners to assure smooth export operations, etc. is involved in the export cycle. Too overwhelming is it?
I recommend going step-by-step. At the Import Export Federation, we not only offer an import-export course but also make sure that you get a complete 100-day action plan. Check out how our student shipped his first consignment of bananas to gulf countries after the Federation's course. You will get a complete understanding of how our student decided to export bananas, how he found reliable buyers, how he finalized the costs, etc.
If you wish to learn & start banana export from India with complete hand-holding, learn more about our courses & tours https://importexportfederation.com/.