So many students are often scared to start off their export journey due to a lack of confidence, or due to them being beginners. In these cases, I always mention that learning is the first step toward your success. Humans are always afraid of what they don't know. With the right guidance and relevant information, you can definitely carry out the export of your products, no matter what they are. How do I know this? Because I have guided countless others like you before.
Having worked professionally in this field for 20+ years, I can also confirm that with a proper plan, beginners, those with less capital, or zero products or experience can also carry out export just as successfully. This carefully curated 100 days action plan by our import export expert team is a foolproof guide you need to follow to ship any product you might have!
Want a detailed and more immersive version of this plan? Excited to learn & start your import-export business with a tried and tested 100 days action plan? Join our FREE Webinar!
Before we start, you might have a question- why 100 days? The answer is pretty simple! Within 100 days, a student can learn, consume, and experience every step of import-export in a detailed way. Here is an overview of what our 100 days action plan includes, its 3 phases, and what exactly you can expect from the after-course service!
The Federation's 100 Days Action Plan
PHASE 1: STARTUP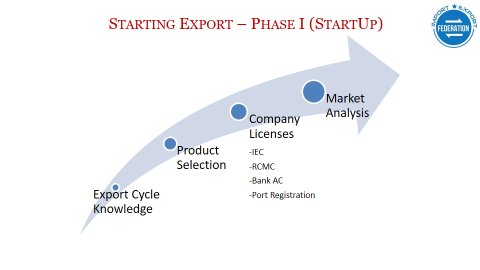 1. Take Complete Knowledge of the Business you want to Start
Like any business process, there are several steps involved when you export. Everyone starts out with the basics, and a thorough understanding of the export cycle, the order of steps, and an overview of what happens at every stage are important.
But it doesn't just end there- you should also have a good understanding of the products you have and the business you wish to start. Reading blogs about the market trends and export trends of your products while also watching youtube relevant videos of the same will help you tremendously. This helps you get familiar with both the product and market along with its trends and terms.
2. Right Product Selection
The actual backbone around which everything else revolves in export is your product! You can't simply select a random product one day and start exporting it the next. The right product is a balance of what you are passionate about and its high potential in global markets. Here are a few questions you should think deeply about before you select a product to export:
Is it made in India?
What is its demand & supply?
How does it fare in international markets?
Who and what are your competitors?
What is its growth potential? Which countries does it do well in?
What are its current export numbers and prices?
Does it have heavy trade regulations?
3. How to establish an Import Export Company?
1. For any new business entity, it first needs to be seen as a legal structure in the eyes of government laws. For this, certain guidelines need to be followed. These include:
Appointing a director
Appointing lawyers/CA/CS
Naming your business appropriately
Government registration
Types of government registrations [Sole proprietorship, partnership firm, LLP (Limited Liability Partnership), Private Limited Company, Public Limited Company, Co-operative society]
2. Here is also a comprehensive list of all the documents needed to start a business entity:
The Partnership Deed
PAN Card
ID Proof (Aadhar card/Passport/Electricity Bill/Driving Licence/Telephone or Mobile Bill)
A fixed business address
Partner documents
GST Registration
Details of the Bank Account
3. The process of port registration is pretty straightforward. You must fill in the form, and have specific documents ready for inspection. What documents do you need for a Port Registration?
Copy of PAN card
Copy of IEC
VAT & Sales tax copy
Registration/exemption certificate
A D code letter from your bank
Latest passed S/Bill
A balance sheet of last year
Forwarding letter to customs
4. Documentation
The documentation part of Import Export might be tedious, but it is an integral part of the process. You will be asked to produce the appropriate documents at each step of export. This is why you should have a fair idea of all the types of documents, what they do, and when they are required.
At all times, you should have your IEC (Import Export Code), RCMC (Registration-cum membership certificate), partnership deed of export, and personal identification documents with you. Apart from those, here is a list of 10 documents you need for export:
Bill of Lading
Commercial invoice cum packing list
Shipping Bill/ Bill of Export
Proforma Invoice
Export Order or Purchase Order
Certificate of Origin
Bill of Exchange
Letter of Credit
Inspection or Quality Check
Check out this blog for a detailed explanation of all these documents.
The core documents are the IEC and the RCMC. With the Federation's Online & offline courses, and JNPT visit, or Dubai Business Tours, you can get an IEC for free. You can apply for the RCMC from the FIEO website.
The full form of RCMC is Registeration-cum Membership Certificate, and it is issued to an exporting entity if it's registered under the export promotion council or the commodity board of India. You need this certificate to claim export incentives and other advantageous subsidies under various schemes. With the RCMC, you can also get GST for the export of goods.
5. Market Analysis for Your Selected Product
The last step of Phase 1 is carrying out a detailed market analysis of your product. This step will determine if you can really sell your goods profitably in relevant International markets. The key to analyzing the markets of potential countries is via economic and macro-indicators, along with the demand and supply of your specific products in the country you are targeting.
This includes being aware and updated with the GDP, GDP per Capita, inflation, and essential trends about how products similar to yours are faring in these nations. You can check out the Import Export Federation's YouTube channel for regular product-specific videos that show how your commodity is performing along with its trends in a country! Here are 2 more steps to carry out for well-researched market analysis:
A. Trade Data Analysis
The analysis of trade data can help reveal key insights about the global markets and contribute to better business decisions from your end. You can also arrive at conclusions about the demand and supply of your products in a specific country you wish to export to.
B. Market Rates
Getting the market rates is the next step to a full-fledged market analysis. With the fluctuations of a country's currency rates, the rate of import and export of goods from the nation is also affected. This also includes being familiar with market-specific requirements. Each country has its own set of rules and regulations, which often differ greatly from one another. Your product might have an easy way into a nation but may need more documents and certifications in another.
You can find the Next 2 Phases of the 100 Day Action Plan here!