Onion is the oxygen to food! A must-have ingredient in almost all global cuisines! From salads to Pizzas, Lasagnas to Sushi, onion is a common root vegetable. You can imagine the demand for onions in the international market.
The top global onion-exporting countries are India, China, and Ethiopia. Onion export from India is seeing the best phase. India ranks 1st when it comes to onion export. There are many big-shot developed countries importing different kinds of fruits & vegetables from India and here is a list of countries with promising global onion markets.
Countries where we perform onion export from India:
Bangladesh
Malaysia
Sri Lanka
Nepal
UAE
Indonesia
Qatar
Hong kong
Kuwait
Vietnam
India exported 658,721.58 Metric Tons of 130,125.13 Lacs value in the year 2021-22 to Bangladesh.
In the areas of onion cultivation, Maharashtra tops India with a production share of 39% in the year 2020-21 followed by Madhya Pradesh with a production share of 17%. Other states in the race are Karnataka, Gujarat, Andhra Pradesh, Bihar, Rajasthan, Haryana, and Telangana. All these states contribute excellently to the onion export from India.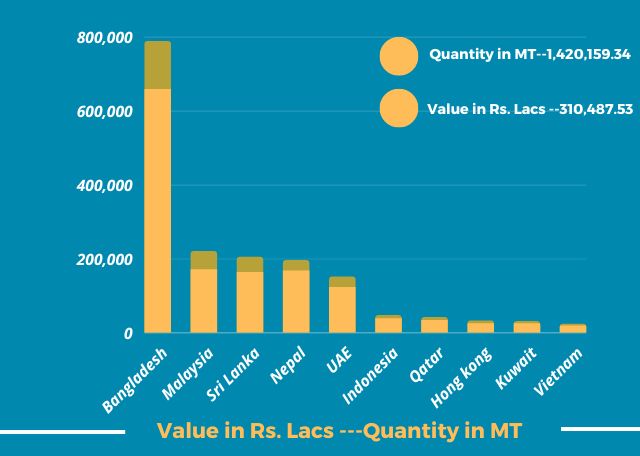 Wonder what types of onions are considered Export-Quality Onions? Export quality onions are Podisu onion, Red Onion, White Onion, Krishnapuram Rose Onion, Bangalore Rose Onion, etc. The usual size of each onion is expected to be from 45mm to 60mm size.

There has been a constant increase in the production of rooted vegetables like onions in the past few years. As per a report generated by Statista, the estimated production of onion in the year 2022 was 32 Million Metric Tons! In 2015, India produced 18.93 Million Metric Tons of onions!
Now that you have understood how promising onion export in India is, let's jump to the detailed onion export procedure.
Step By Step Onion Export Procedure From India:
1. Import Export Training Is A Must!
The first step would be to learn import export business even if you have the expertise and experience as well. Learning from an elite institution gives you different exposure & helps in excelling in the import-export game.
Especially if you are a beginner, attending a course can give you complete transparency and knowledge of the import-export sector. It helps in decision-making, adds value to the knowledge, and most importantly, gives complete hand-holding in actual export cycles.
2. Do Your Homework!
Understanding the global onion market will help you learn what types of onions are in demand, what countries have maximum demand for onion, how importers work in every country, what are the current prices and what profits to expect, etc.
The Indian Government encourages exporting as it helps in improving the National GDP Rate. Hence, you can literally benefit from various Government facilities & schemes. Different Government bodies also help in getting buyers' data, ensuring the authenticity of buyers, etc.
3. Find A Reliable Source.
It is extremely important to find a reliable & genuine source that will deliver export-quality onion. Make sure your onion source is offering you-
Excellent quality
Timely delivery
Delivering entire order
Feasible price
4. Register A Company
Once you are ready with your research & finalize your source of quality onion, the first important step you need to take is to establish a registered company. You can be a sole proprietor or you can start in partnership with someone of similar interest, expertise, & experience. With a registered company, you can have a chance to stand out from the competition with proper branding.
5. Find A Partner
Before you start looking for international importers, it is recommended to look for reliable & experienced partners who can support you in finding importers in foreign lands. Having a partner in other import-export hubs can be of great help. Partners help you connect with potential importers, crack deals with them, pitch your products, resolve language barriers, and assist in stable & regular business. Attending trade fairs and export business tours can help you connect with partners.
At the Import Export Federation, we organize Dubai export business tours where we offer practical exposure to actual trade as well as help our exporters connect with reliable partners.
6. How To Get Importers?
How to get trustworthy & reliable importers? Among many other challenges, the most common challenge is finding importers. In this competitive world where many farmers & exporters perform onion export from India, it is important to establish a unique position in the market.
This can be done in 2 ways; offering the best price & offering the best quality. And if you can do both, you win faster! If you are a newbie to onion exporting, make sure you deal in Cash & Carry export where you need not accept any credit period. You can simply ship your containers of onion and get paid for your products right away with any credit period hustle.
7. Documentation
Having all your documents in place is very important. Along with basic documents like your IEC, BL, Bill of Export, Proforma Invoice, Certificate of Origin, PO/EO, Bill of Exchange, etc. make sure you have the insurance document ready with you.
Since onions fall under semi-perishable foods, getting insurance is very important. You can visit the ECGC online platform for more assistance. You can also associate with an Operations Executive to help you through the process.
Along with these 7 steps, having an organization like the Import Export Federation covering your back can get you complete hand-holding & support whenever you need it. Here is a detailed video where one of our students Mr. Vinay shares his experience of shipping 2 large containers of onion in his first
Want to start onion export from India? Contact us today!