Being in a strategic location, our nation is surrounded by oceans and seas on 3 sides out of 4 along with a coastline of more than 7000 km. To our east, we have the Bay of Bengal, we have the Arabian Sea to the west and the Indian Ocean to our south. Due to this, we have some of the best and largest ports in India! These include both major and intermediate ports, out of which the former is under the government and the latter under state jurisdiction.
This makes India an opportune hub for global trade! These ports are incredibly useful to Indian importers and exporters, as well as support the Indian economy. Here are some of the largest ports in India!
Top 10 Largest Ports in India!
1. Largest Ports in India: JNPT Port- Mumbai
Located in Navi Mumbai, the Jawaharlal Nehru Port Trust is by far the largest container port in India. It's also known as Nhava Sheva and plays an extremely important role on our western coast. It also ranks as the 28th biggest port worldwide. Inside this port are 50 ICDs (Inland Container Depots), 30 CFS (Container Freight Stations), and a Customs House. Today, almost 55% of total container cargo is shipped via this port.
Since the start, it has crossed Twenty-foot equivalent units every year as well. You will commonly see exports of machinery, textiles, chemicals, pharma products, and meat through this port. Import products include machinery, oils, and plastics among a few.
You can get a chance to pitch your product directly in this port with the Federation's JNPT tour! Get the live experience of customs clearance and export at one of the largest ports in India!
2. Largest Port in India: Port of Mundra
Operational since 2001, the Port of Mundra is India's largest private port and majorly works in bulk cargo and containers. It is also at a strategic location, thus being well connected to other hub spots of India with railway and highway routes. In this port exists MPCT (Mundra Port Coal Terminal), which is the biggest coal-importing terminal in the world. Every year, around 40 million tons of coal are imported through here.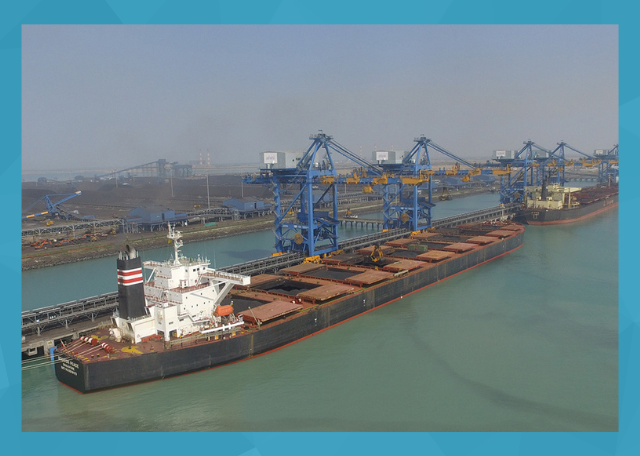 Most of the major export this port sees is export of agriculture products, crude oil, edible oil, coal, liquid bulk, fertilizers, chemical, minerals, project cargo, and automobiles. This port is also home to 3 pipelines, and storage facilities for coal, machinery, and agricultural products. Other facilities include coal processing stations, wheat bagging units, steel handling yards, and storage tanks for liquid cargo.
3. Largest Ports in India: Port of Chennai
A fun fact about this port, this is the 3rd oldest port in India! Acting as the biggest port on the east coast of the Bay of Bengal, the Port of Chennai is often referred to as the Gateway of South India due to its massive impact on commerce and global trade in the southern region. It is segregated into 3 zones- North, South, and Central with numerous berths distributed among these. In terms of connectivity, this port has a direct association with more than 50 ports and also ranks in the top 100 of worldwide TEU handling.
You will see the export of vehicles including automobiles and motorcycles, cotton, textiles, leather, iron ore, granite, industrial freight, coal, petroleum products, fertilizers, and agricultural products. Some major imports include raw cotton, wheat, iron, steel, and machinery. The port of Chennai is also on its way to increasing its total capacity to 140 million tons.
4. Largest Ports in India: Port of Kolkata (KoPT)
This is the first port on this list that is not a seaport. Acting as one of the largest river ports in India, the Kolkata port is a homogeneous freshwater port and is a part of the river Hooghly. Some major export commodities of this port are jute, textiles, copper, iron ore, and chemicals.
Northeast India along with neighbouring countries such as Bhutan and Nepal have been using this port since the early 16th century. The port of Kolkata is also famous for its dry docks being the largest in India!]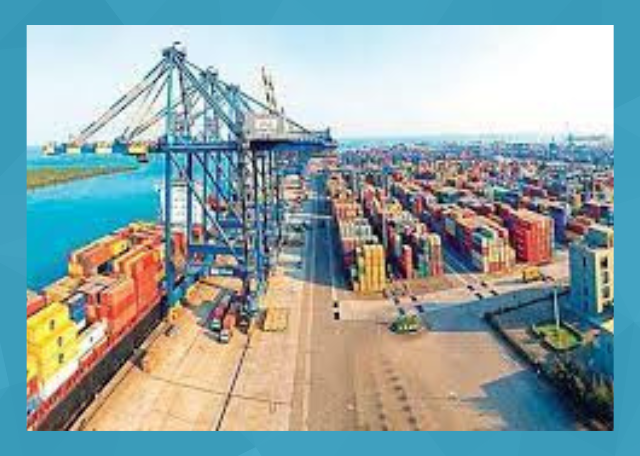 5. Largest Ports in India: V.O. Chidambaranar Port
The next on the list of largest ports in India is VOCP. Also called Tuticorin Port, this port is a major hub in the southern region of our country. In India, it is the 4th largest port and spans across 8 square km. You can find containers from China, Sri Lanka, the USA, the Mediterranean, and Europe here.
The import products include cement, phosphate, coal, petroleum, fertilizers, and edible oils. Raw ore & minerals, sugar, granite, building materials, general cargo, and limonite are some of the export products.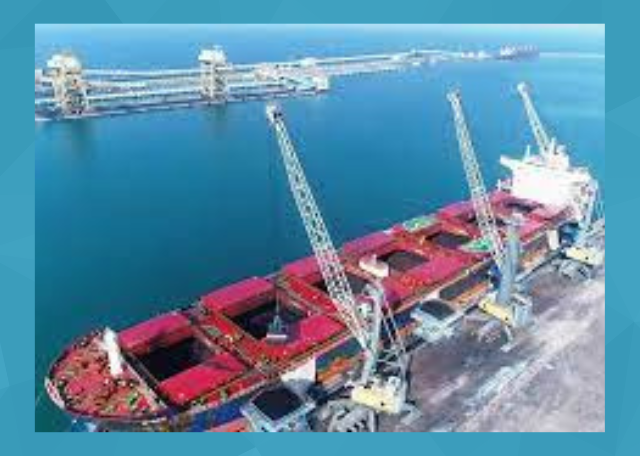 6. Largest Ports in India: Port of Kandla
Enclosed by a natural harbor, the Port of Kandla is located on the Gulf of Kutch and is a huge seaport of India. It is famous for the import of petroleum and refined products. In fact, over 50% of the traffic in Kandla is via these products. Chemicals, steel, iron, machinery, and petroleum are the import products of this port. The major products exported from this port are textiles, grain, oil, and salt.
7. Largest Ports in India: Port of Mumbai
Launched by the British during the 17th century, the Mumbai Port, also known as Bombay Port Trust is a huge part of India that spans over 400 square km. Its nature is that of a natural deep-water seaport and its location is on the Arabian sea.
Its operation falls under the MBPT and unlike its next-door counterpart Nhava Sheva, the port of Mumbai handles general cargo and bulk. This port is built to accept crude and petroleum vessels from Iran, the Middle East, and other nations.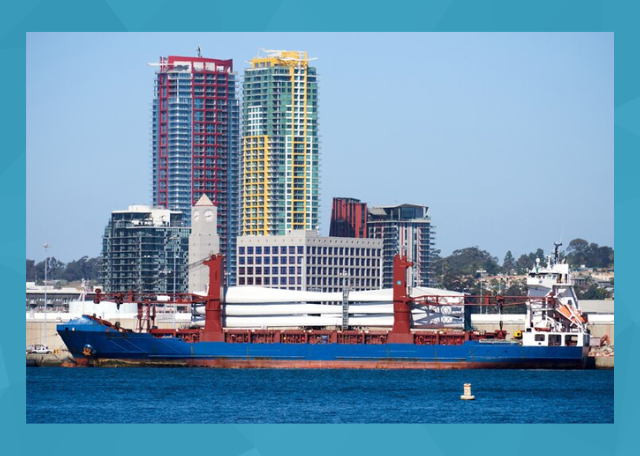 8. Largest Ports in India: Port of Visakhapatnam
Serving as the largest port in Andhra Pradesh, the Port of Visakhapatnam ranks 3rd largest in cargo volume and is at a close distance from both Chennai and Kolkata ports. Most export products on this port come from Central and South India.
The major export products include manganese nodules, steel products, coal, crude oil, general cargo, iron ore, and petroleum derivatives.
9. Largest Ports in India: Port of Cochin
Situated on the Arabian coast, the Kochi port usually sees traffic from the route of the Indian Ocean. This port is operational under the CoPT (Cochin port trust) and was launched in 1928. It is in close vicinity of facilities in Kochi such as the shipyards, refineries, and the Kochi Marina as well. Further, it is linked to the southern region of India via railways, airways, and highways.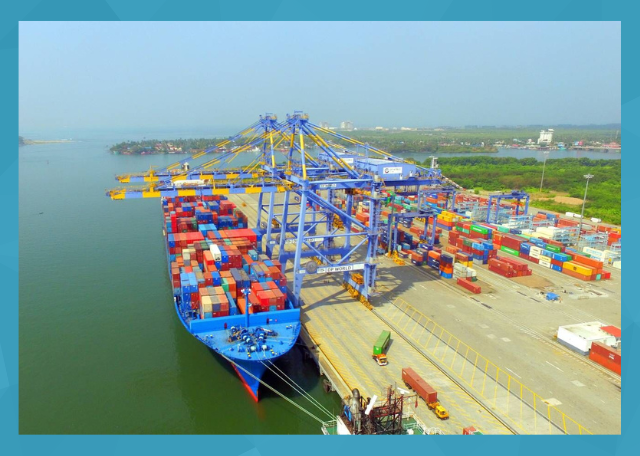 10. Largest Ports in India: Port of Hazira
Last but not least on our list is the Adani Hazira Port, also known as the Surat Port. This is a crucial port for Petroleum and LNG and falls under AHPPL (Adani Hazira Port Private Limited). The commodities it handles include breakbulk, bulk liquids, petroleum, containers, edible oils, chemicals, crude oil, and automobiles. This hub majorly takes care of cargo from Africa, the Middle East, America, and Europe.
Conclusion
A few of the other ports that missed the list but are significantly some of the largest ports in India are Mormugao Port (Goa), Ennore Port (Chennai), New Mangalore Port (Karnataka), Paradip Port (Odisha), Panambur Port (Mangalore). For exporters, producers, and manufacturers who don't live around coastal areas or any major seaports, there are also countless dry ports through which the goods are transported to seaports.
For more in-depth knowledge to practically learn how to export your products from India, check out Online and offline courses from the Federation! And if you wish to actually visit the JNPT Port or take a trip and interact with buyers from Dubai, you can check out our JNPT Visit and Dubai Business Tour! Register and Start your journey today!