PHASE 3: MARKETING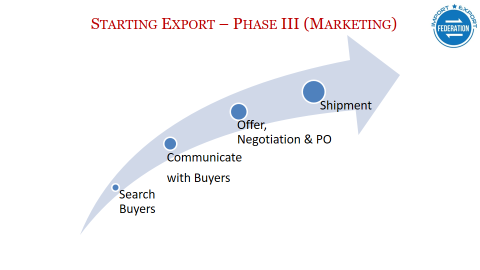 1. Searching for Buyers
After doing all the homework on your product, and sourcing, pricing, and registering your own company, the next step is to start promoting your brand and products for a fruitful export as well.
Building a professional website listing all your products and services is the biggest boon. A well-designed website sells your seriousness, and lets interested importers view all your products and their specifications at a glance. You can rely on all the relevant information including terms and conditions, and capabilities in one place and a coherent manner.
Apart from this, you also need to be visible on portals and platforms where interested buyers are actively seeking out sellers like you. This is not a challenge, as several techniques- both online and offline exist to find verified and reliable buyers.
These include social media, google marketing, and attending exhibitions, embassies, and buyer-seller meets. In fact, the more time you spend exploring markets, the more insights you will gain into how international trade works.
2. Marketing Hacks
As you are aware of how essential marketing is for your business, here are a few marketing hacks you can use, which are pocket-friendly!
Build a strong social media presence with frequent posting.
Curate offers and discounts to selected customers.
Don't be hesitant to collaborate with pages or complimentary businesses for more cross-promotion.
Go strong on email marketing- especially for potential buyers.
Actively attend trade fairs, and other import export-related events to build a network you can pitch to.
3. How to Find the Right Buyers?
Finding the right buyers is directly linked to getting more international orders, and expanding your business in the long run. But it doesn't just end with finding an importer. This is the first step, followed by many other micro steps.
These include checking the authenticity of these buyers, effective connection with buyers outside India, identifying the correct pointers to say while pitching your product, and finally, sending samples and quotations, before making profitable negotiations. Here are a few things to keep in mind when you find the right buyer:
To check the authenticity of the buyer, you need to first verify its registration & licensing information. Check their business history, online presence & reputation, relevant references, and financial stability. Lastly, make sure you meet them either physically if possible, or via online meetings face to face.
Don't hesitate to send samples if asked for some as well. Sending samples can clear any doubts on the importers' side and accelerate the process of securing the deal.
Check out this blog on how you can get more international orders for export! Another way to find buyers is through the live markets. The Dubai markets are filled with eager buyers who are looking for Indian products. Your products have a huge potential in the UAE, but they will never be discovered if not pitched to these buyers face to face.
With the Federation's Dubai Business Tour, you can directly pitch your products to these buyers in these markets and grab an opportunity to start a successful export!
4. Effective Communication with Buyers
While pitching, first give a clear introduction to your company and its products and services. Make sure you highlight its unique features and benefits while showcasing how it solves a problem or fills a need. Next, show data and statistics that back your claims and talk about your target market.
Now offer your pricing plans while showing flexibility and customizations. Make sure you also address any potential concerns for transparency. Lastly, you can present customer testimonials and end with a clear call to action.
5. Negotiation
Once you have set up effective communication with your buyer, you can then proceed to negotiate. This is one of the most essential parts of your trade, as it determines the value of your products for this trade and the ones in the future as well. Make sure you have prepared sufficiently and carried out enough research beforehand.
To start with, begin with a clear understanding of your bottom line. Make sure your value proposition is crystal clear and that you have used data and market research to back up your propositions. Also, make sure you are listening to the concerns and needs of the one in front of you to build a long-term relationship.
6. Shipment
Once you complete the negotiations, communication, and the terms and conditions have been agreed upon by the buyer and seller, a purchase order is issued by the buyer. After receiving this PO, the seller needs to complete the technicalities to properly ship the goods. This includes booking a container and loading it for either air or sea shipments. These are a few things to keep in mind:

Choosing the right shipping method while keeping in mind cost, speed, and delivery requirements.
Ensuring total packaging of goods so that they are safely and securely packed, and there is no damage during transit.
Preparing all the necessary documents such as commercial invoices, bills of lading, and export declarations.
Labeling and marking your shipments accurately with the relevant and appropriate information, addresses, details, and customs codes if there are any.
Customs clearance procedures. This can be a tricky part as the regulations vary from country to country. Customs can also randomly take your goods for a check to see if they are legal. Check out this blog for a detailed guide to Custom House Agent!
Using tracking tools and systems to locate your goods at all times so that timely delivery can be ensured. Also, make sure you have proper communication with the recipient for proper delivery as well.
7. Operations after Shipment
Your job is not done at shipping! Here are the other operations that follow after the shipment of your goods is done:
Invoicing and payment collection: Make sure you issue an invoice to the importer and follow up on payment collection.
Ensure the necessary documentation for shipping and customs is completed and stored properly.
Look out for feedback and reviews from both your importer and customers so that you can continuously improve your products for a better experience next time.
Final Thoughts:
The export cycle has many steps. Often, these steps have micro steps which need to be carried out accurately with all the correct information and proper steps. But doing so will only help you succeed. While this may seem overwhelming if you follow the Federation's 100 days action plan dedicatedly, you too can export your first shipment!
You can get a detailed explanation of the 100 days action plan customized to your products with online and offline courses, a JNPT visit, and a Dubai Business Tour. Start your export journey today!
You can find the Previous 2 Phases of the 100 Day Action Plan here! (link to previous blog posts)